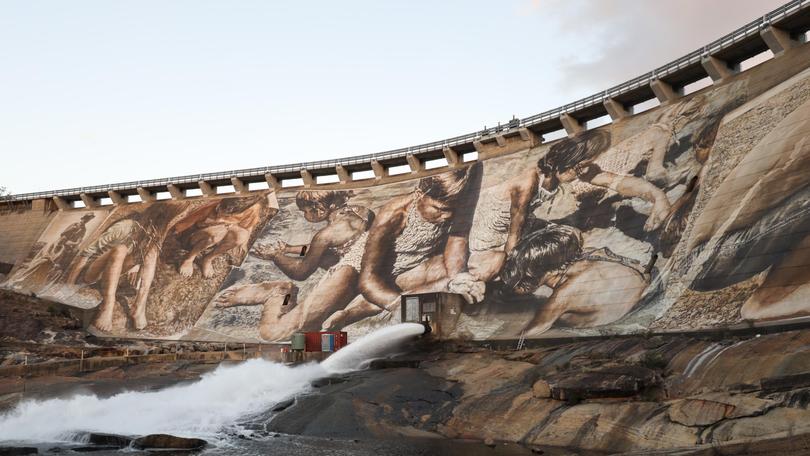 Street Art Bucket List Locations: Australia
We're all a little cabin feverish at the moment, and with the rapid faith being lost in the Australian government lets shift our focus momentarily to the arts… and create belle visite des graffitis, a bucket list for eye balling visually appealing walls in Australia.
1. Aboriginal Rock Art – The Grampians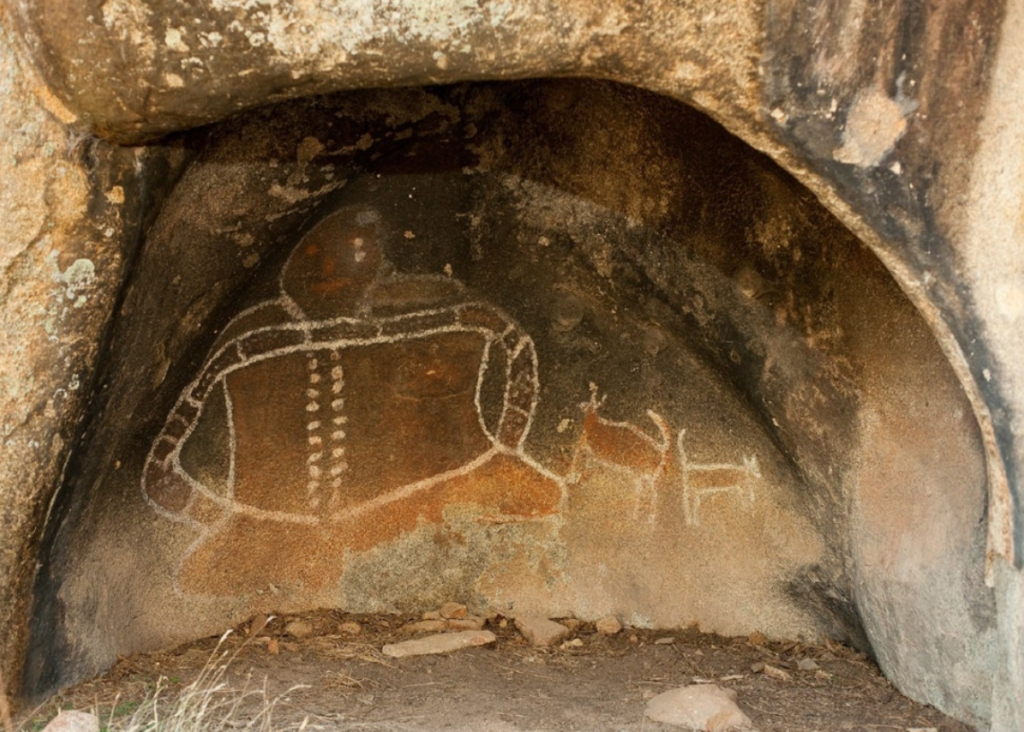 (Image source: visitgrampians.com.au)
The original story tellers, and number one on the list of murals. If you haven't taken the time to culturally observe and immerse yourself in the largest collection of rock art in southern Australia, put it on the list. 200 sites over all, with 5 open for public viewing.
Click HERE for more details about visiting the Grampians and to learn about the rich history of the area.
2. Freemantle + Perth, WA – Street Art and Sculpture Tour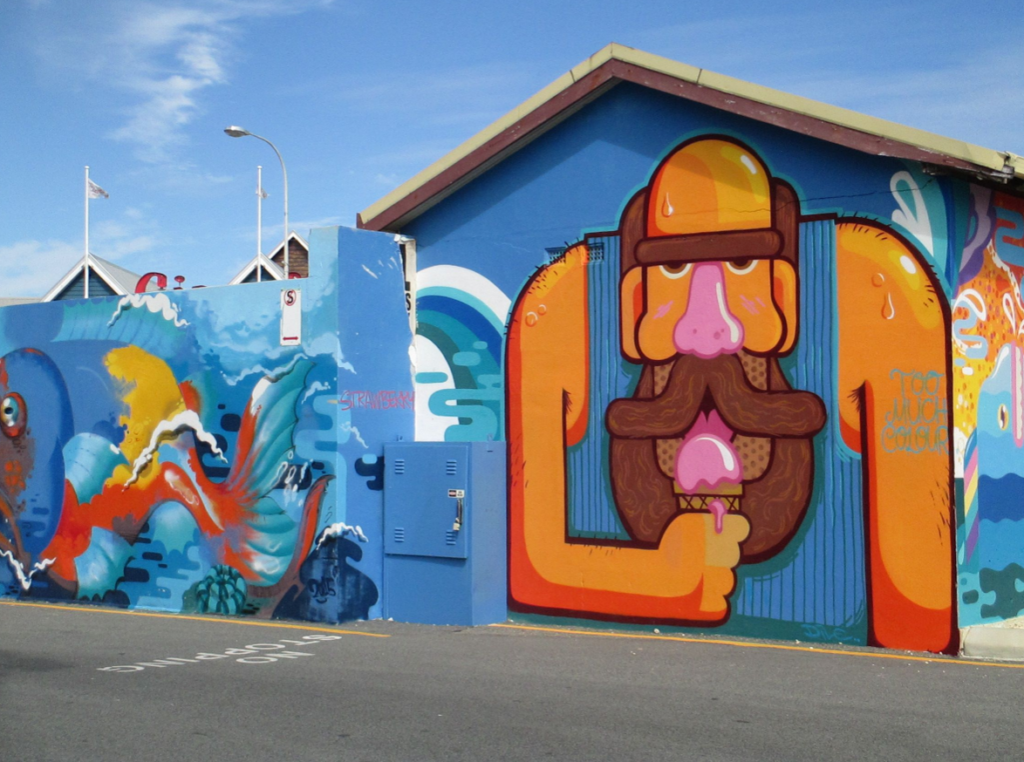 (Image source: weekendnotes.com)
Us eastern dwellers sometimes forget about our western friends, maybe it's because Perth is further away than a trip over seas… never the less, the street art scene in Perth is producing some UBER cool work, so if the beautiful aqua waters and barren shores of the Indian Ocean aren't enough to drag you over there add a street art tour to the list of incentives…
Click  HERE for more details on Perth's growing street art scene! 
3. Hosier Lane Melbourne – The Classic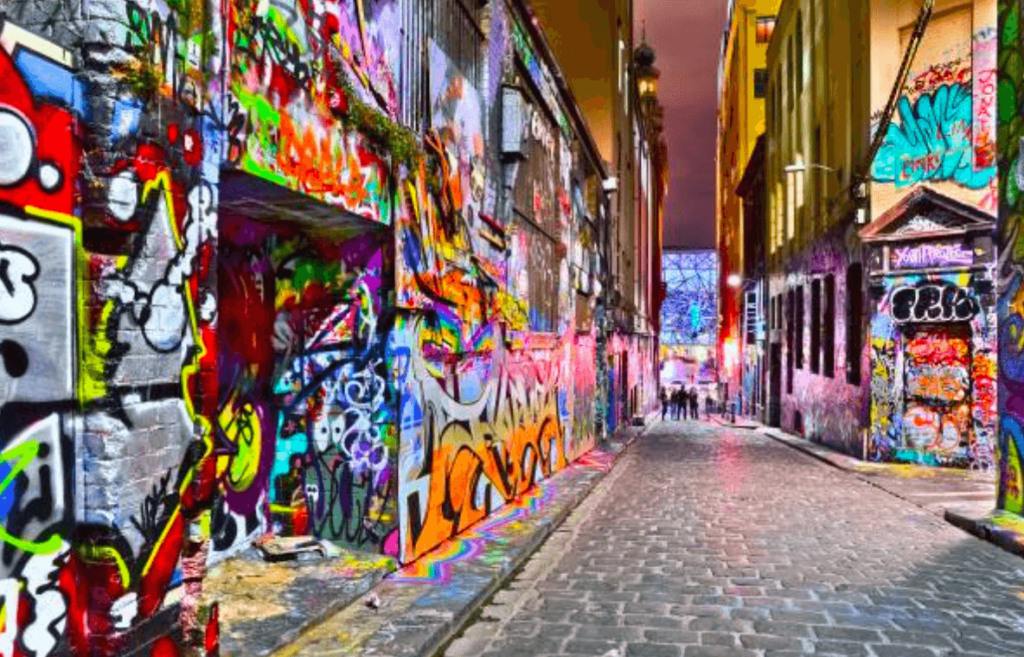 (Image source: victoriasocialist.com)
Shrouded in controversy Hosier lane Melbourne is an example of the blur between legal and illegal street art that is appreciated all the same as a key tourist destination. Lined with hipster cafe's and epic photo opportunities every step it's easy to see why #hosierlane is a blow up on instagram.
4. Katoomba, The Blue Mountains – street art walk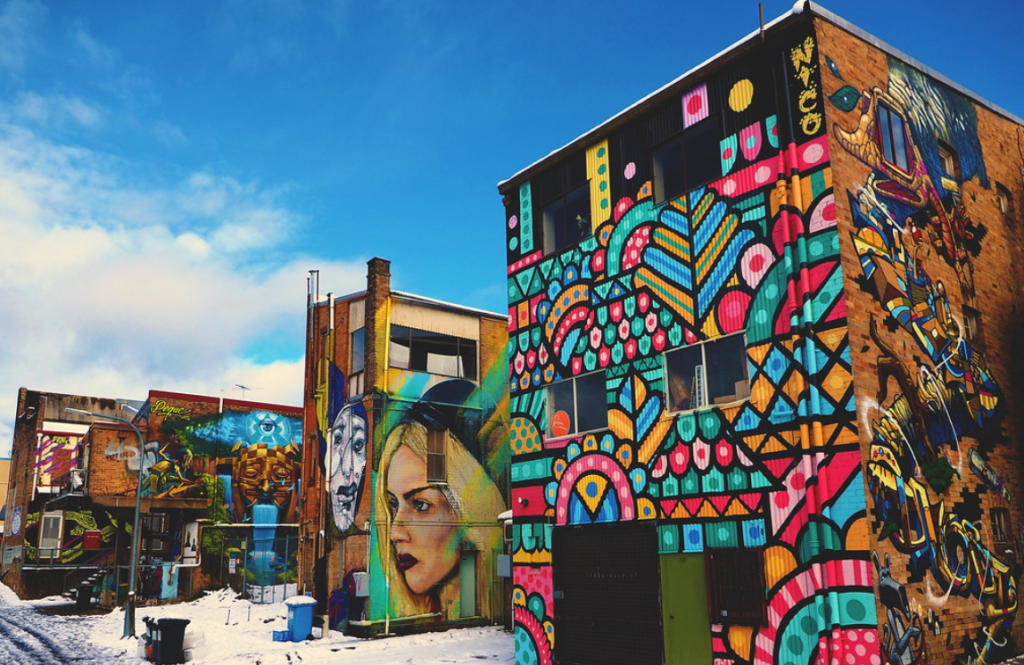 (Image source: pinterest.com)
Perhaps another obscure choice for the list, but after recently experiencing Katoomba as the kinda-rural-kinda-city, and very historical town that is the gate way to the beautiful blue mountains, I just had to put it on the this list. 'Sif you needed more of an excuse to book a hiking holiday in the blue mountains where you drink local coffee and eat local bread and view local art! Blending nature and urban culture is a delicacy.
5. Sheffield, Tasmania – The Town of Murals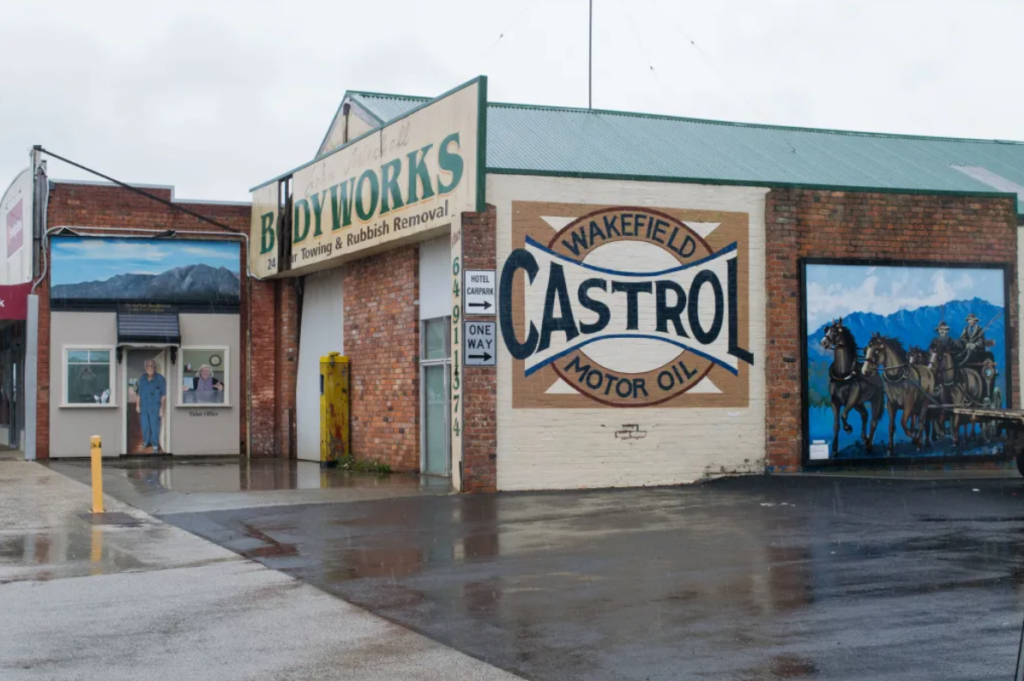 (Image source: travellerswhere.net)
If visual learning is your jam, then Sheffield has 150 wall murals depicting the history of the town, the area, and the people. If you' re an old school sign writing appreciator this tiny town is definitely worth pin dropping on your tasty Tassy road trip!
6. Brisbane QLD – Brisbane Street Art Festival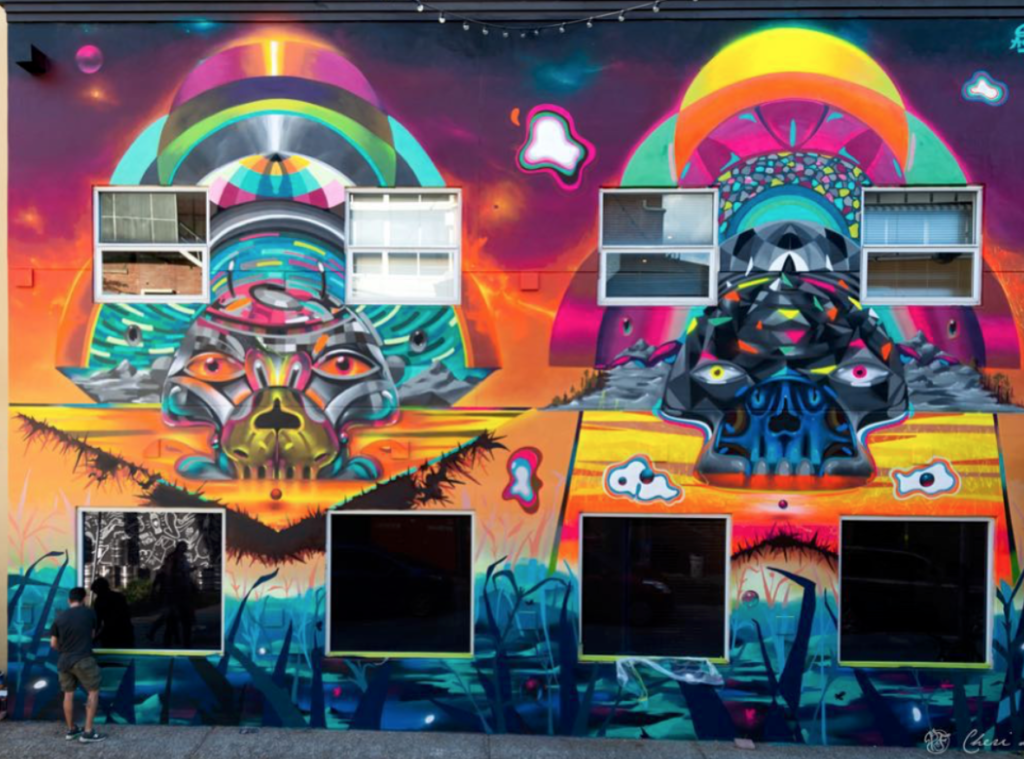 (Image source: pinterest.com) 
Brisbane city has developed a keen appreciation for street art, and as such developed an entire festival dedicated to it for your enjoyment. Running since 2016 the festival includes classes, talks, specific artist events, parties and FOOD. Missed the festival? That's so okay, the murals didn't pack up and leave so you can easily tour them yourself!
7. Benalla, Vic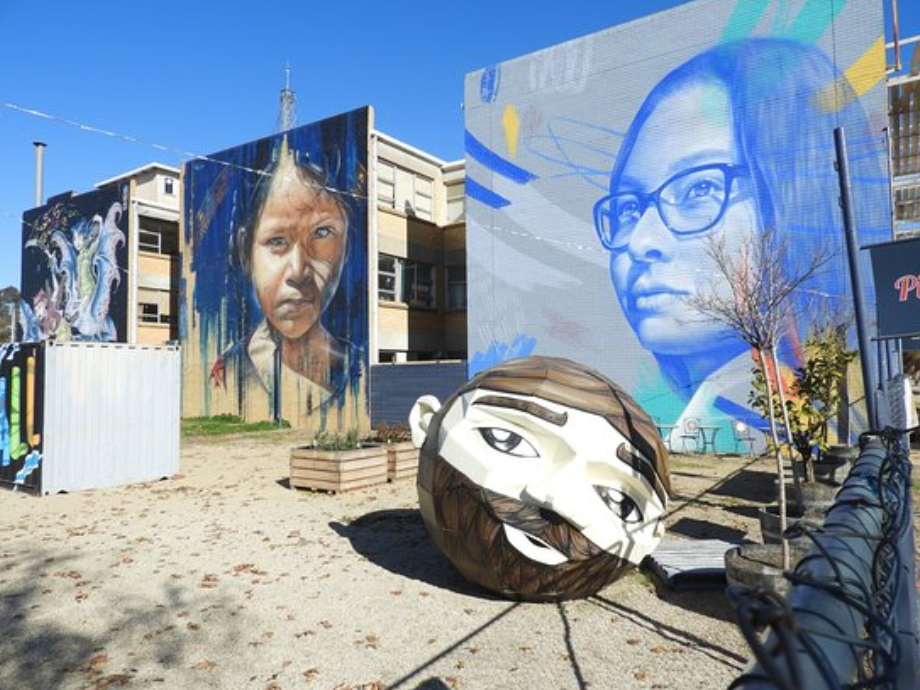 (Image source: abc.net.au)
Banella is a vibrant and fun place to see some of Australia best street art… Normally host to the Wall to wall festival which has unfortunately pressed pause due to COVID-19 risks, but will hopefully be back in the near future!
8. May lane, St Peters – Outdoor Gallery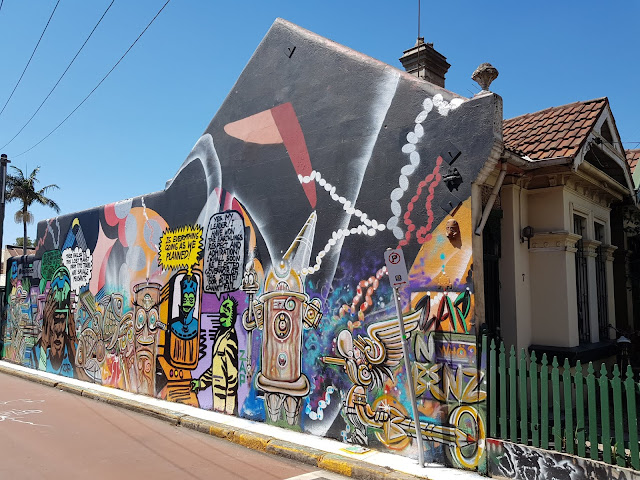 (Image source: sydney.city.blpogspot.com)
Outdoor galleries can be appreciated by anyone at anytime making them a quintessential part of modern, contemporary and street art Australia. May lane in St Peters, Sydney is now internationally recognised, so we just gotta see it right?
More info on when and why to visit HERE
9. Yeppoon, QLD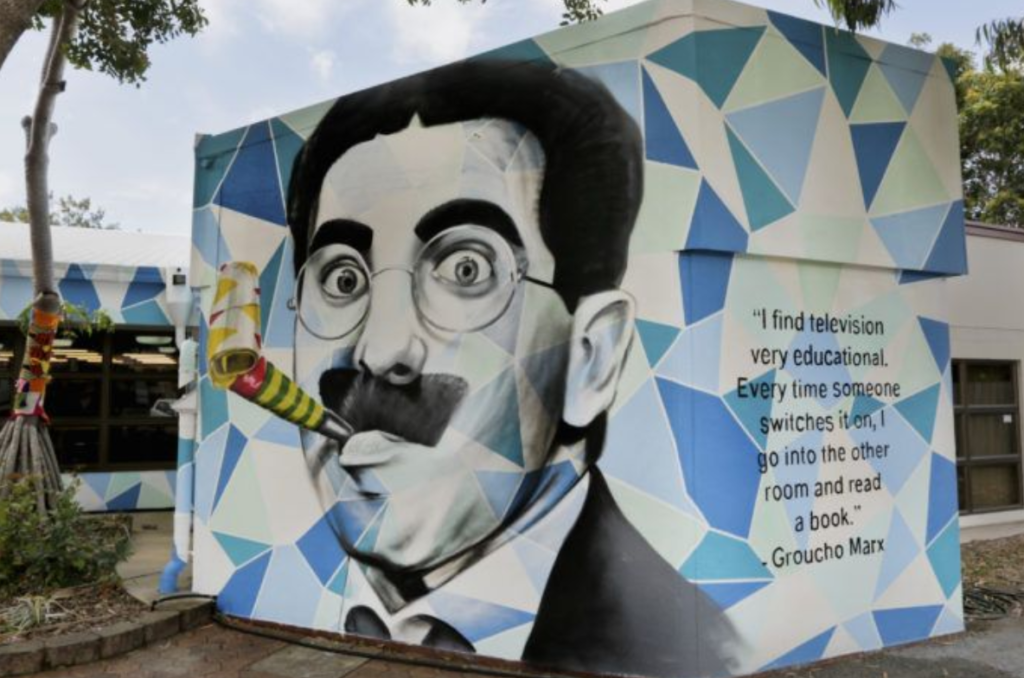 (image source: visitcapricorn.com)
On the way to the Barrier Reef? Make sure to stop in the Yeppoon. The first mural in this coastal town was to brighten life after the devastation of tropical cyclone Marcia, and there's been wonderful ripple affect of more and more murals!
10. Bondi Beach, Sydney – Mulga the artist Mural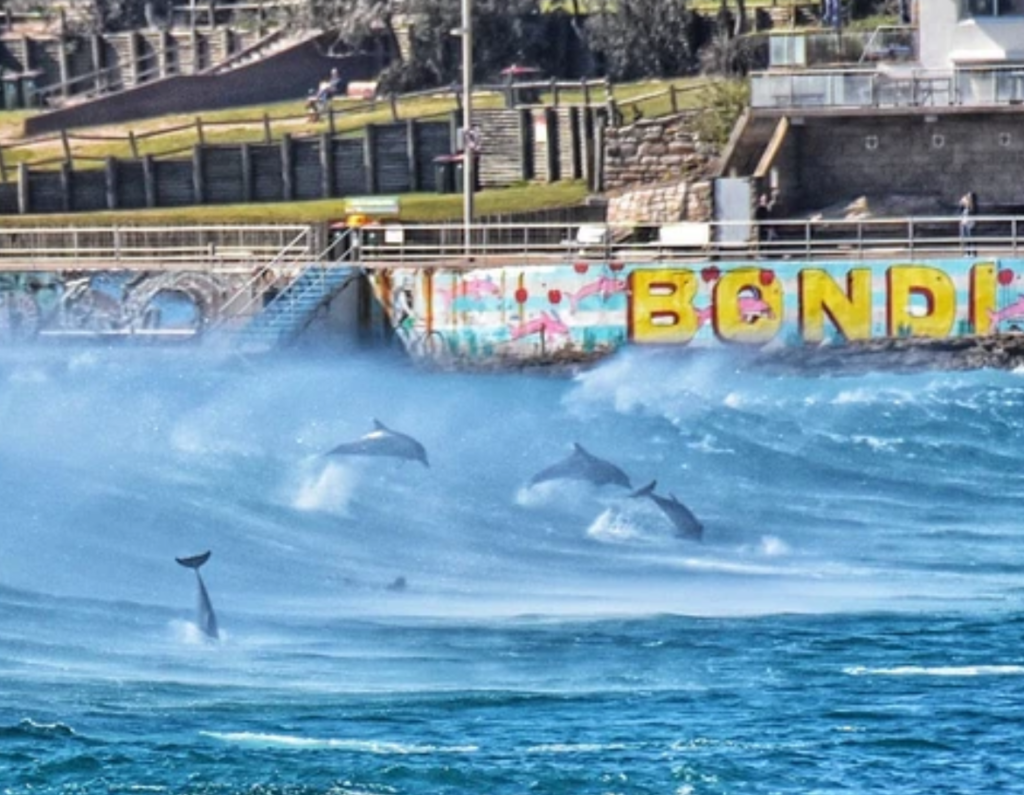 (Image source: mulgatheartist.com)
Checking in at Bondi Beach is ESSENTIAL. So why not get a selfie in front of dolphins surfing waves in front of a mural that literally says BONDI BEACH?  Mulga the artist has many murals around Sydney check out their website HERE to see more locations!