History of Street Art in Singapore
South East Asia has long been celebrated for its unique art and story telling, Singapore is at the epicentre of this. SO, before we take a look at Singaporean street art, let's brush over some key moments in the history of art in Singapore…
Nanyang Movement
The multi-cultural nature of Singapore has led to the development of eclectic art styles that were significantly influenced by both Chinese calligraphy, and European expressionism. One of the most prolific art movements of Singapore's cultural history is Nanyang style art. The Nanyang movement gained global attention and blended Chinese ink-wash techniques with European techniques, depicting a vibrant culture and lifestyle. Nanyang art was particularly relevant in the mid century with artists such as Chen Wen Hsi (responsible for the art on the Singapore's $50 note), Georgette Chen, a prominent female figure in art history, and Tan Choh Tee, whom adapted an impressionist-like style. Nanyang artist typically painted outdoors to capture every day existence.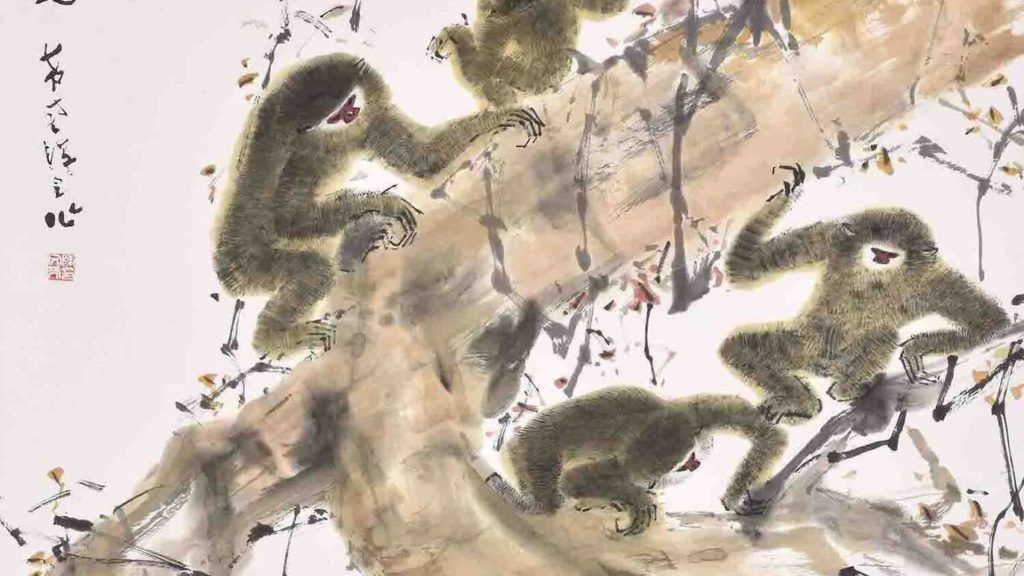 Work by Chen Wen Hsi
Contemporary Art in Singapore
Contemporary art refers to innovative art of the 'now' or relatively recent past and has morphed into a form of expression utilising several different mediums. Singapore artist are relished for their experimentation between traditional and new-age art, using symbolism to tell stores and evoke emotions that celebrate their country and culture.The Singapore Art Museum, founded in 1995, has a permanent collection of contemporary art spanning medias such as installation, video, sculpture, painting, and photography; and the National gallery of Singapore has a tremendous collection of art which can be viewed online here.
Street Art in Singapore
THEN
Singapore's then graffiti scene developed in the early 90s, and consisted of artists that referred to themselves as 'crews'. A country with an International reputation for strict civil order and cleanliness was quick to crack down on the destruction of public property; crews predominately created tag-bombs and quick throw-ups to avoid police. A notable crew from the 90s is
Zinc Nite Crew established in 1998 and now globally recognised and active in several countries. By the early 2000s the graffiti/street art scene was stagnated after suffering from a government crack down.
NOW
Slowly but surely Singapore has evolved to celebrate street art for its culture, tourism attraction, and showcasing talented local artist. What started as approval for crews and artists to paint on derelict buildings scheduled for demolition, is growing into an exciting and flourishing scene.
In 2013, ZERO, is awarded the National Arts Council young artists award, the first street artist to do so. Zinc Nite Crew have several street art murals around Singapore, and other crews such as RSCLS  are creating more frequently. There has also been a movement for legalising urban areas like skate parks and encouraging every day people to try it out and leave their mark on the city!
Where To See Epic Street Art in Singapore?
There are several locations around Singapore to view diverse and vibrant Singapore murals. Many of these are part of public art trails, think of it as an open air gallery! Time out shows some of the best art trails and also the best street art locations all around the city, three notable locations are:
Sultans Art Village
Home to studios, galleries, and retail spaces, and of course, vibrant murals! Sultans Art Village is in the Malay Heritage Centre and boasts a quirky, old school meets new school appeal. There's also a graffiti shop that offers spaces to practice!
Amoy Street Food Centre
A satiating combination of food AND street art, uhhh YES. 5 murals line the walls and are a collaboration for NEA Hawkers Centre by local street artist Ceno2 and the Students for Anglo Chinese School.
Haiji Lane
Hipster central Haiji Lane has building walls lined with murals that reflect the artsy culture of the community. Littered with cafe's and boutiques, it's a tourist hotspot in down town Singapore. The lane is open 24/7 for viewing pleasure, and will certainly give you those Hosier Lane worthy social media shots!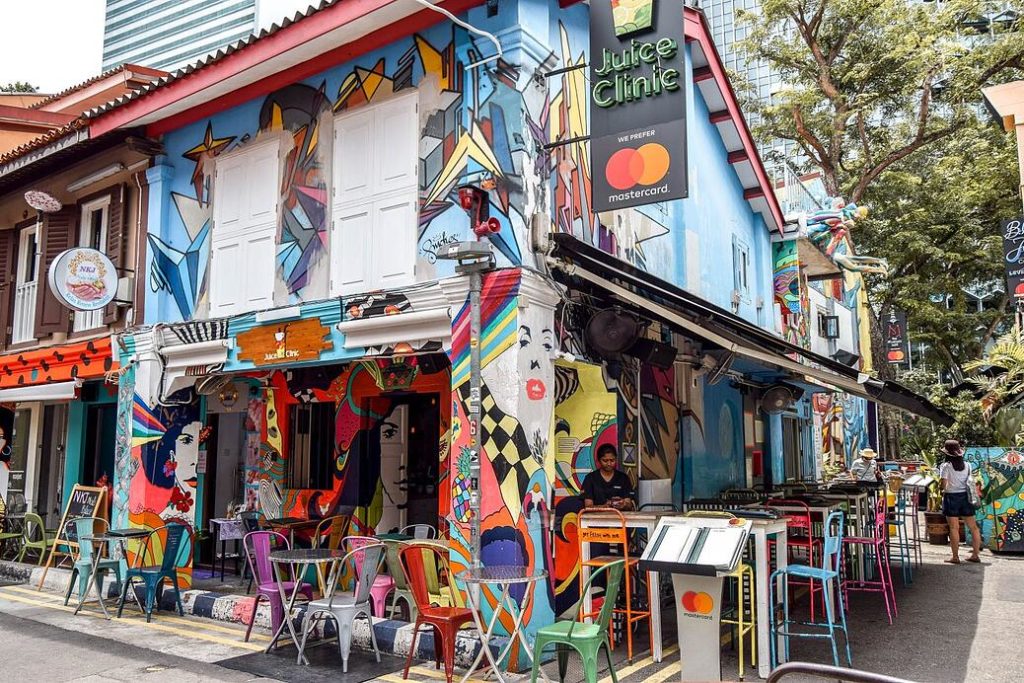 Honeycombers youtube video Wall Crawl: Street art in Singapore is a great walkthrough video of the best that Singapore street art has to offer, and is perfect for those of us tuning in from home!
How has Traditional Art Influenced Street Art?
True to its roots of multiculturalism and the collection of several different art styles, Singapore street art is unique blend of east meets west and truly reflects the diverse and eclectic nature of the city! An ode to past Nanyang style artists who painted outdoors and involved themselves in every day life, modern street art depicts daily activities, traditional architecture, and a surreal approach to story telling!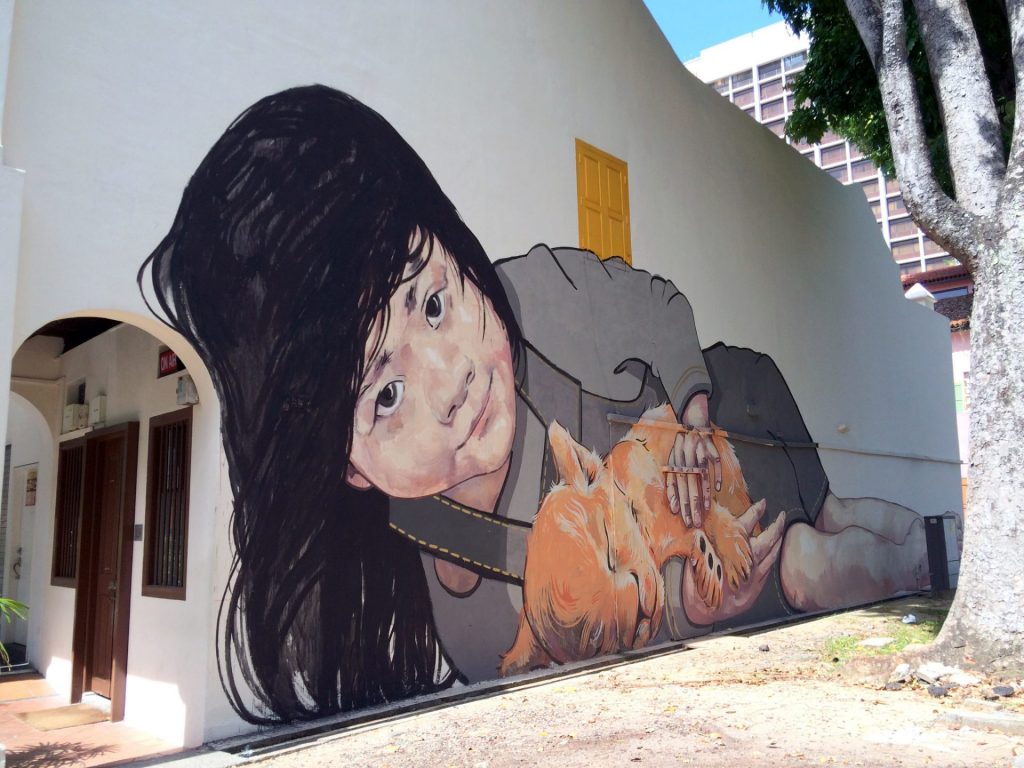 Mural in Jalan Pisang Junction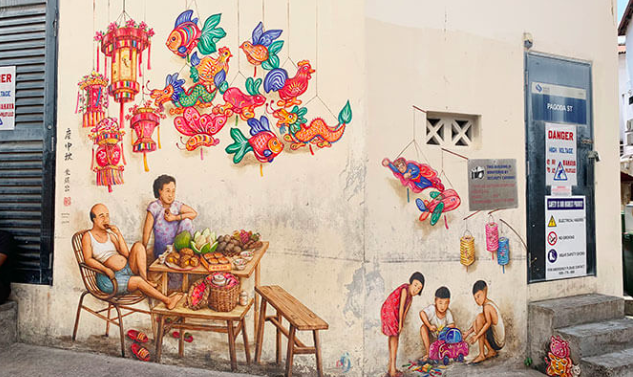 Mural in China Town depicting every day life
What Does the Future Hold for Street Art?
Bright! With fresh initiatives like ArtWalk  Singapore that aim to shine a spotlight on local street art while also educating about the history, and stories behind the artist, the future is bright! Encouraging consistent interaction with street art Artwalk is normalising the scene, and giving it a platform to speak to a wider community. The benefits of this are going to be unanimous for the street art community as more public spaces become approved for practice.
Singapore Street art festival is celebrating their tenth anniversary in 2021. They are dedicated to helping aspiring youth artists chase their dreams, whilst also supporting the existing street art community. Their vision is to create a global platform for the talent of Singapore, with objectives around nurturing street art culture through programs and events!
These are only a couple of the initiatives dedicated to supporting street art and the community, Singapore celebrates several different festivals dedicated to other mediums of art that often cross-cultivate with street art and murals. The Illustration arts festival, market, National gallery of Singapore to name a few!
Watch this space is the best way to wrap up this article, Singapore is just getting fired up and we, at Book An Artist, predict grand things to come from this buzzing scene!