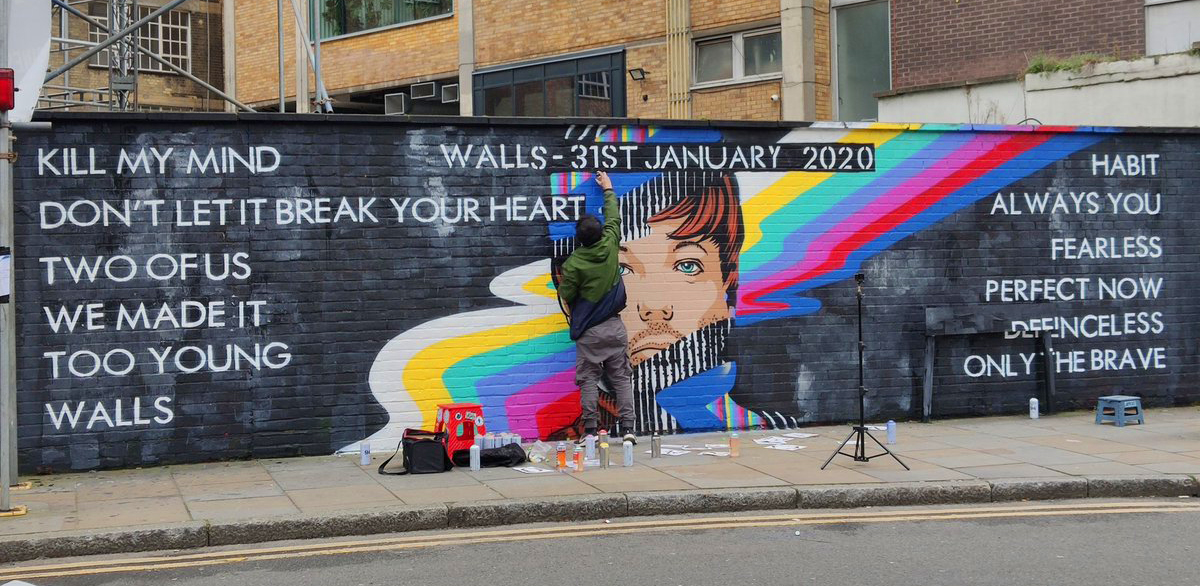 Louis Tomlinson Album Launch Mural Painting on Brick Lane, London
If you're still broken hearted over the One Direction split, don't be! We've got the cure. London mural artist, Jay, collaborated with 'one' of the 'directions' to create buzz for his new album. Plug in your headphones, pop open a tub of ice cream and gaze into the illustrated eyes of Louis Tomlinson.
What could be more fitting for an album titled 'Walls' than a personalised mural on a literal wall? Sony Music UK, alongside Syco Entertainment and WMA Agency requested the piece be completed in under a day. Jay had his work cut out for him but tackled the 30sqm wall with talent and precision.
"It was great working with Sony, they really respected my vision of collaboration between brands and artists in the public space and let me express my art at the same time representing their vision and not being like a regular advert. In the end, we collaborated together joining forces to create a public mural that went above regular advertising." – Jay Kaes
Forget art galleries London! Splashed across Hanbury Street, London, the mural instantly garners the attention of tourist hot-spot Brick Lane. Fans flooded the streets in hopes of catching a glimpse of the superstar singer (a.k.a. Louis Tomlinson – although, Jay is our personal superstar). The album song list was slowly revealed as Jay painted the day away. Louis then took to Instagram sharing the finished product alongside "this is so sick!".
The most astonishing part? Over 117k folks, friends and fans tuned into the live stream featuring Jay and his skills.
"People were really happy and excited and received hundreds of messages and emails congratulating us for the work." – Jay Kaes
Book An Artist will forever be proud of Jay and his brush with fame!