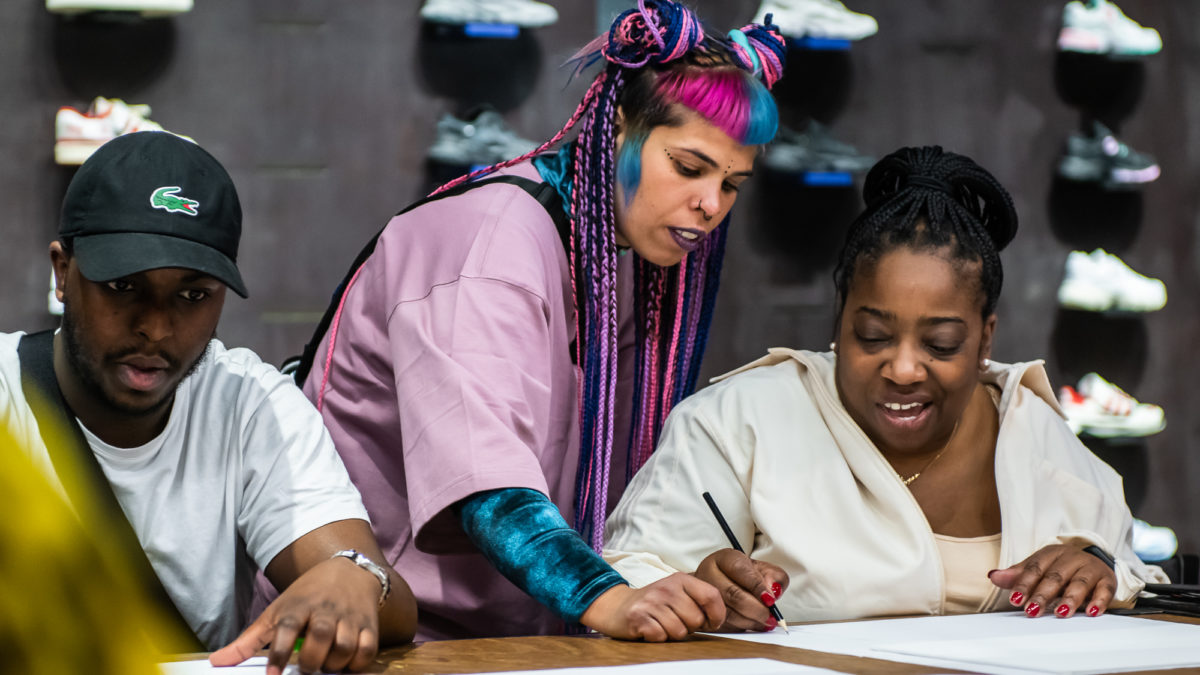 What To Expect At A Live Art Show
We're all itching for the lift of lockdowns, it's like a new years countdown only a little less assured and ten fold more drawn out. A debutant ball, for everyone, as we enter back into society.
We know you are busy curating your post-lockdown bucket list and we don't want to inundate you, BUT let's etch in there a live art show, because they are COOL.
A live art show comes in a few different forms:
Scribble Slam
Where artist are competing within a certain time frame to get a painting complete and then the crowd will vote with their greatest woohooo's. This is an awesome, social event that advertises local artists in a fun game-like way.
What to expect? A cheeky schooner, or mocktail, whatever be your choice, an MC keeping the crowd engaged and running the show, nervous artists ready to perform, and of course really COOL art, an all round social and fun environment to hang out with mates! At the moment scribble slam is predominately in Brisbane, but let's hope for expansion!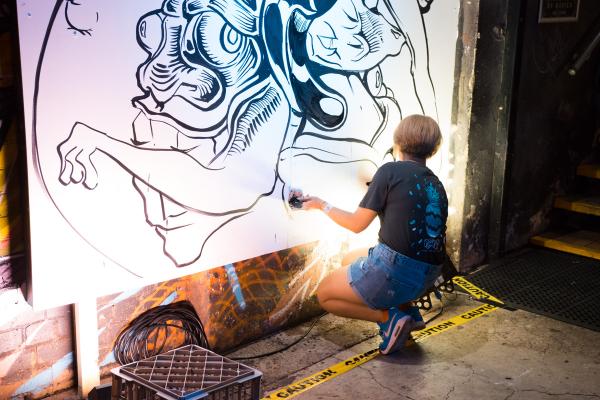 Scribble slam event – image source Brisbane Street Art Festival
Live Mural Painting
This is where a painter or graffiti artist creates a piece of art during an event, this could be any event, a gallery opening, a mixer, or even a market! This could also be purely a show dedicated to watching an incredible piece of work come together. Some people perform better with an audience, y'know!
What to expect? A wander around, a mingle, a chance to buy from small vendors, or appreciate a singular OR a mix of artists in a show. The live painting could be on theme fro the event, or simply organic, it could be raffled off for charity and the performing artist might have some things for sale or at least some socials you can follow! Expect yourself to be doing laps to come back and see more, or perhaps you're so engaged you're sitting right there in front of the painting scratching your chin in a state of existential ponder!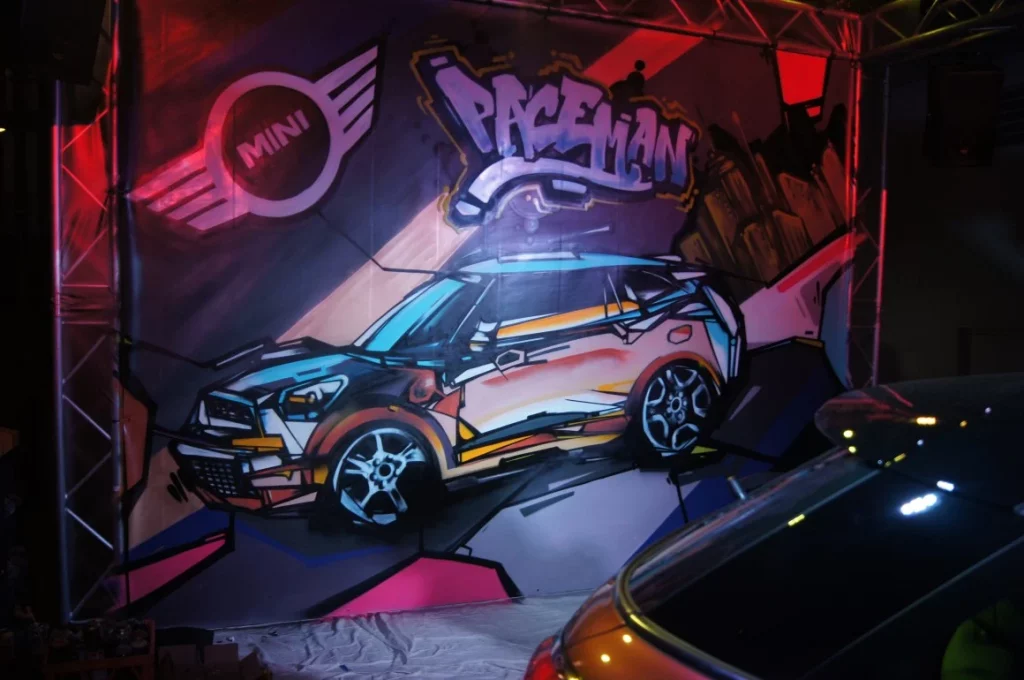 Live mural done for BMW, Adelaide. Image Source – Street Art Studios
Virtual Live Murals
One for the changing world, or the rural art enthusiasts who can't attend in person. Virtual murals are a live streaming of an artist doing what they do best, this could be at an event, or a social media marketing ploy to gain more followers or even just a way to try and interact with humans in our new VERY digitally charged lifestyle.
What to expect? A live action, real time, showing of an artist at work. An engaging platform where positive comments can be made throughout the process. A great back-ground show that helps you fold that pile of laundry on THAT chair. A print out so you can colour in as the muralist goes along. There are a million possible expectations in this scenario, so let your mind be creative, or simply let it melt into the peacefulness of watching a human do what they love. Access to a time-lapse replay is usually available as well, for those with less patience!
Community Murals
Usually for a specific community event, or to celebrate a special person or happening, or all of the above within the community. This could have been via a competitions where local artists submit their ideas and get the chance to win the right to painting the mural, or it could be a renowned artist bringing the idea to life, or it could be the community comes down with their own paint brushes and get to work. Whatever the design it's a beautiful way to bring everyone together for a special occasion.
What to expect? High spirits, an early morning start, market stalls, community produce and products, paint splattered pants, and a full heart is the general gist of this event. Art can divide as much as it can unite, but in this instance unity, friendship, and community adoration are the defining emotions. And of course, a mural that can be enjoyed time and time again!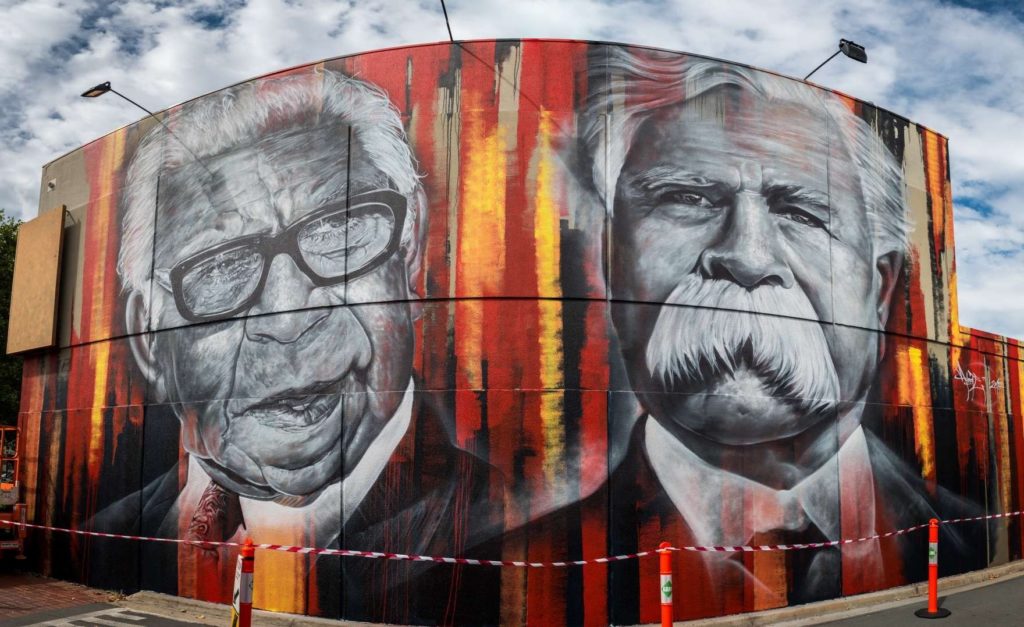 A community mural celebrating the late Sir Douglas Nicholls in the Greater Shepparton region, Image source – Greater Shepparton Community
Are you planning an event that you think could be amplified by some live art?" Book An Artist have an abundance of artists Australia wide (and globally) and we are itching to help you get the ball rolling and help you with some live art and mural commissions.
Don't forget to check your local galleries, markets, and community event pages, to keep a keen eye-ear-nose out for these types of events, they are wholesome, thought provoking, and a great way to show support.