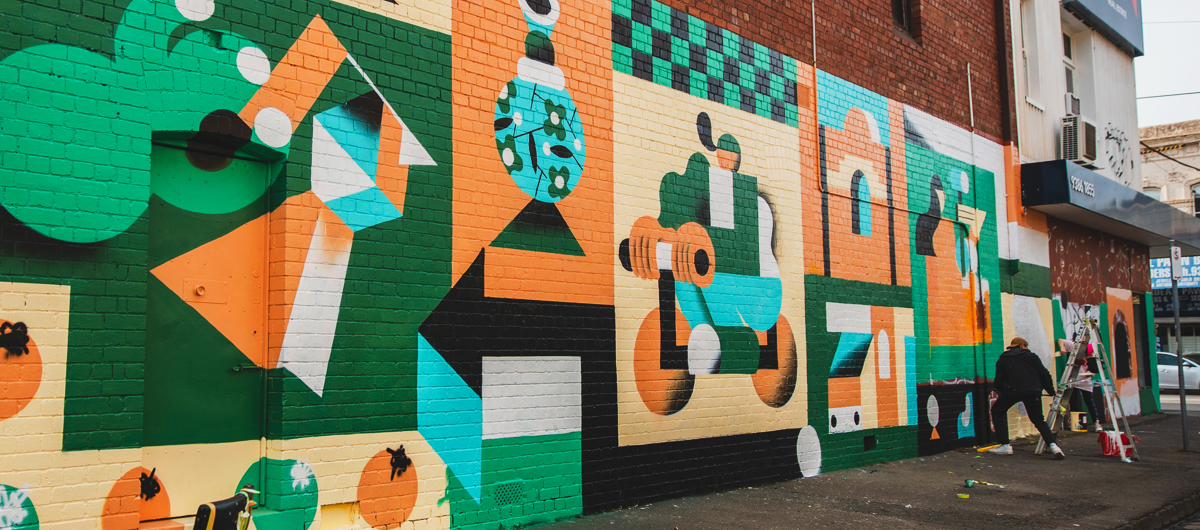 Sydney Road, Brunswick Becomes Another Melbourne Mural Hotspot
Looking for a new exercise route? We've got you covered. Melbourne based mural artist, Baxter, put his creative skills on show to produce an astonishing piece for the Sydney Road Brunswick Association. When the opportunity arose to bust out the spray paint, Book An Artist couldn't have been more thrilled for Baxter. The empty brick wall, on the corner of Sydney Road and Ballarat Street, was in dire need of a freshen-up.
"I moved here from Glasgow, Scotland to network within the street art scene of Melbourne. After a year and a half of networking, getting my hopes up, trying anything I could to get my hands on a wall – any wall – I was finally given the best opportunity imaginable." – Baxter
Through collaborations with the Manager of the Sydney Road Brunswick Association, Claire, Baxter prepared to take on the 30 x 5-metre beast. Such a large mural painting required plenty of dedication and determination. Baxter was hungry to produce a powerful and thought-provoking art piece worthy of the Melbourne mural scene.
"When it comes to painting murals the large scale is never normally the hard part, this is in fact the fun and rewarding aspect after spending weeks and weeks planning. The hard part is the design and coming up with a fresh, new, thought-provoking idea that not only displays my capability but also takes a stab at some experimentation of where I'd like my style to progress."
The final design is a collage of appreciation for the unique businesses, people and cultures the infamous inner-city suburb has to offer. Public transport, live music and incredible coffee only scratch the surface on the sentimental value of Baxter's abstract creation.
Banding together with a team of three Melbourne street artists whose hands were made for helping, Baxter smashed out the mural painting in under a week.
"To have done such a significant piece, in such a cool area with all this creative freedom to push my own style… It really has taken a weight off my mind creatively. I can go home now knowing I accomplished my goals and fulfilled my purpose in Melbourne! Everything else after this is a bonus."
No challenge was too big or wall too huge, Baxter's eye-catching spectacle sits bold between Sydney Road, Brunswick op-shops and the best Brunswick cafes. Commuters, travellers, hitchhikers and dogwalkers can now gaze upon beauty instead of brick.
"If you thought this wall was good, wait until the next one!"