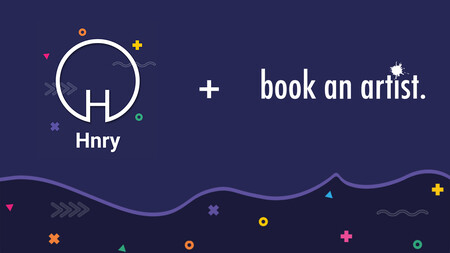 Do you want your taxes calculated and paid automatically?
We recommend Hnry! 
Book An Artist has partnered with Hnry to make working for yourself easier. Hnry makes freelancing as simple and risk-free as being permanently employed, by taking care of all that boring financial admin for you! We pay all your taxes for you every time you get paid, and when the time comes, we'll file all your tax returns for you – all of this and more, for a low pay-as-you-go price.
As an Artist who is a Sole Trader, here's what you get with Hnry:
All your taxes calculated and paid as you earn (including GST, Medicare levies, and student loan)
Your tax returns (Income Tax & BAS) lodged by Hnry's accountants
Expenses reviewed as you go for instant tax relief
Unlimited support from Hnry's team of local accountants
1% pay as you go service – no hidden costs, subscription fees or lock-in period.
Join Hnry now and never think about tax again!
How does Hnry work?
You can also use Hnry platform for anyone else you work for – such as other self-employed work or projects. If you use Hnry for your invoicing, we'll even follow up with your clients if they're late paying.
If you have business or home office expenses, you can snap a picture of your receipt on your phone and our expert team will review each one to make sure you get the right tax relief, straight away.
As an Artist on the Book An Artist, use the promo code ARTIST or follow the link below to get your first $5,000 in payments processed for FREE.
How Much Does Hnry Cost?
We charge a 1% fee on income paid into your Hnry Bank Account.
For that fee, you get full access to the Hnry service – there are no joining fees or subscription costs. That means you only pay when you're earning! We don't charge by the hour to review your expense receipts or file your tax returns – so you're always paying a fair price.
If you earn over $150,000, our fees are capped at $1,500 per year – so if you're a high-earner, you'll never pay above the cap!